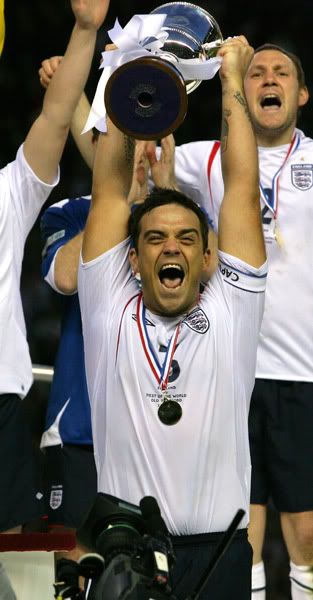 Robbie Williams' team, "England," won the Soccer Aid benefit for the United Nations Children's Fund last weekend. Williams' opponents, the "Rest of the World" team, were lead by Gordon Ramsay. Each team was made up of ten celebrities with six World Cup soccer greats. Argentinian football great Diego Maradona played for the "Rest of the World" team, but they still lost to "England":
Actor Jonathan Wilkes managed to score two goals in a solo effort to put England 2-0 up within the first 20 minutes but Diego Maradona managed to convert a second-half penalty – awarded for a handball by singer David Gray – for the Rest of the World side. Jonathan Wilkes was named man of the match.
A sell-out crowd of 75,000 fans was at Old Trafford to watch the match, with millions expected to tune in to watch the game live on ITV1.
The England team, captained by Williams and managed by Terry Venables, also included former England internationals Paul Gascoigne, John Barnes, Tony Adams, David Seaman, and Bryan Robson alongside TV stars Jamie Theakston and Angus Deayton.
Ramsay's team included former Argentina international Diego Maradona, former Chelsea star Gianfranco Zola and Tony Blair's former spin doctor Alastair Campbell.
Here's a highlight video of the goals:
We made fun of Wiliams for getting caught smoking last week after he pledged to quit for the sake of his team, but he pulled off a win anyway. This isn't Williams' first time working for UNICEF. He's been a UN Ambassador since 2000.