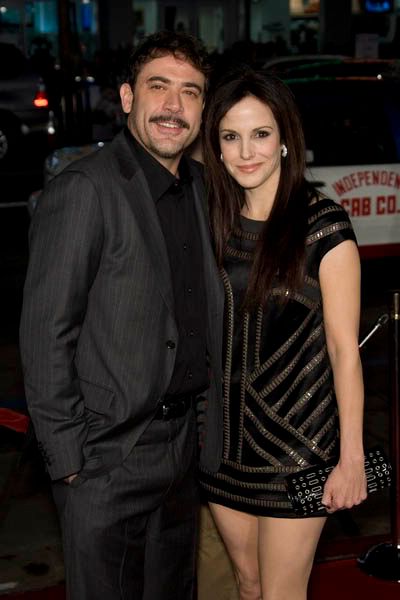 Mary-Louise Parker is such a cutie. She's just about always caught smiling when she's out, and her part in Weeds is great. So I'm really happy to tell you she's getting' hitched, to Jeffrey Dean Morgan.
But the couple, who play husband and wife on the hit show "Weeds," have recently rekindled their love and announced their engagement to friends. The two had showed up at the "P.S. I Love You" premiere in December 2007 holding hands.
He's Denny from Grey's Anatomy, in case you weren't familiar with his name. Don't bother trying to remember it, he'll always be Denny to us. Even if he is playing her husband Judah on Weeds. ABC should have made a spin-off with him in it instead of Addison in boring Private Practice. Although it could be a little difficult because Denny is dead. They did bring him back once, why not again? The magic of television should make it possible – or how about Denny in the afterlife?
The couple has been a little on-again, off-again in recent years, splitting briefly in June 2007 because it was the "wrong time in both our lives." They got together again shortly after, and began appearing in public as a couple in December.
Mary-Louise has two children, William aged four, with Billy Crudup, although they split when he started seeing Claire Danes in her seventh month of pregnancy. Nice. She also adopted a baby girl from Africa in September.
Mary-Louise has some sympathy for her fellow adoptive parents Brad and Angelina.
She said: "I think it's inhumane. The media's gotten more and more salacious, they're just ruthless."

Parker revealed that she was particularly disgusted by photographers' attempts to get close to the couple's adopted family, saying: "As people, I think it's our duty to protect children at whatever cost and they really exploit the children of celebrities, especially their [Jolie and Pitt's] children, at whatever cost to get a picture of them."

She added: "It feels really immoral to me. It's not fair for them. I think they actually handle it well."
I have to agree with her, as of all the celebrities on earth who seek out paparazzi and publicity, I suspect that Brad and Ange would be under intense scrutiny no matter what they did. Sure, they use the media to promote worthy causes, films and other projects when it suits them, but they are definitely going to be photographed no matter what they do. Probably because they just look so freakin' adorable, with all the little babies around them.
Mary-Louise Parker and Brad Pitt starred together in The Assassination of Jesse James, which could be part of the reason she feels compelled to speak out on their behalf.
Picture Note by Celebitchy: Here are Jeffrey Dean Morgan and Mary Louise Parker at the premiere of P.S., I Love You on 12/9/07. I'm including some more pictures because it looks like Morgan is just so happy to be there with her! Thanks to PRPhotos.