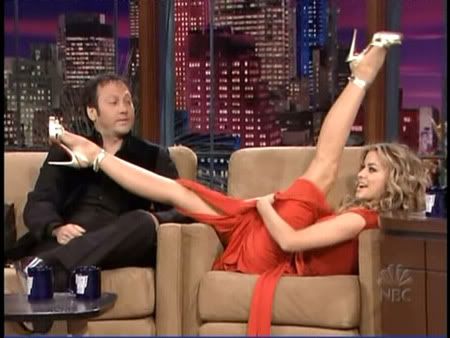 Carmen Electra spread 'em wide during her appearance on The Tonight Show on 3/29. She demonstrated the latest moves she's learning at the circus dance school she attends.
She also denied that she's pregnant and avoided addressing whether she's having problems with her husband, Dave Navarro. She deflected the question with a bad joke, and wasn't too convincing: (Dialogue transcribed from video)
Leno: there's two tabloids last week. One had you breaking up and one had you pregnant.

Electra: Which one is it? I know, I hope I'm not pregnant.

Actually, well I couldn't be, because the last time I was on the show, promoting Cheaper by the Dozen, I said I was going to rip my uterus out, remember that?

I did, so that's impossible. No, No..

Leno: Do you want to have kids?

Electra: I do, I want to have kids…

Leno: How many?

Electra: I always wanted to have 10, like the Brady Bunch kind of family, now I think one or two.
Leno then reminded Electra about the stripper pole she talked about during her last visit, and she brought up the "aerial hoop," which is a ring hanging from the ceiling from which you can do "all these really sexy moves." She spread her legs, covering herself with her dress, and put her feet in Rob Schneider's lap. He acted all silly and put a pillow over his lap.
Electra isn't fooling anyone with her antics, and while she said that "[Dave] looks like a bad boy, but he's sweet" when asked if she goes for the bad boy type, she never said once that "Dave and I are fine."
You can watch the video and see for youself.
Electra is starring in Scary Movie 4, out April 14th.
Pictures [via]
Four more pictures of Electra showing her moves after the jump.