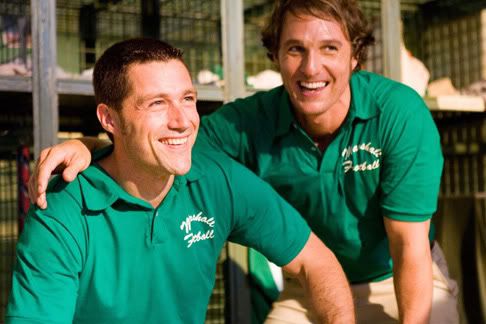 Hotties Matthew McConaughey and Matthew Fox star in We Are Marshall, a movie based on the true story of a college football coach who helped a town heal after all 75 people were killed aboard a plane transporting their football team from a game.
Matt was on Oprah yesterday and said that he can't help but cry every time he sees the film, which has a message of hope and renewal in the face of grief.
He also said that it helped him to connect with his departed father, who was also a football coach and once played with the Green Bay Packers.
The movie was filmed in the town of Huntington, West Virginia where the tragedy took place about 30 years ago. At first locals were suspicious of the Hollywood invasion, but soon warmed up to their efforts to tell the heartwrenching story.
McConaughey is clearly moved by the film and the story behind it. He says it was the first script he read that he knew right away he wanted to do. He calls his role as head coach Jack Lengyel his "most gratifying experience… as an actor."
He sums up the message of the film:
We Are Marshall is a powerful film, Matthew says, because it's a football story about more than just the game of football. "You don't forget your past, you don't forget your loss. You've got to respect it. And with good memory, and good hope, something to look forward to, then we can just keep livin', or just keep playing today," Matthew says. "Things we don't want to remember, we need to, whether they hurt or they don't because they form who we are. But you've got to move on—not forgetting. You've got to move on. Strap on the boots and take the field of life, take the field of football."

"There's no rule book for how do you deal with [grief]. We all do it our own way."
Here's the trailer, which made me tear up a little:

I'm not that into sports, but I really want to see this movie now. It looks excellent and McConaughey seems like he fits well into the role. We are Marshall is out on December 22, and I'll be in the states for Christmas and will be sure to check it out.
Here are some stills from We Are Marshall from allmoviephoto.com. There are also pictures of Matt on Oprah. Matthew Fox plays assistant coach Red Dawson. Other actors in the film include Anthony Mackie, Kate Mara, Ian McShane, Arlen Escarpeta, January Jones, and David Strathairn.
In one cute picture, Fox and McConaughey are shown posing with the men they play in the film, former head coach Jack Lengyel, and assistant coach Red Dawson.
Many of these pictures are available as wallpaper for your computer desktop through Allmoviephoto. Here's the official website for the movie.