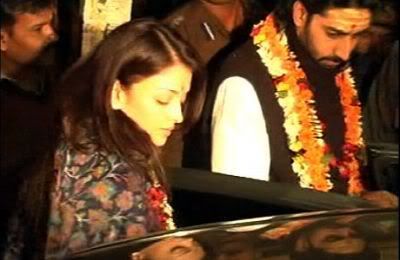 This may fall under the "who cares" news of the day, but it's causing a sensation amongst the Bollywood scene in India.
Even though Aishawarya Rai has been denying for months that she's in a relationship with her Umrao Jaan co-star Abhishek Bachchan, it does not explain why Aish recently snuck away with the Bachchan family to a prominent Hindu temple. Some reports are saying the family reportedly went to see an astrologer about Aishwarya's horoscope (it's not good) because it's preventing them from finding an auspicious wedding date.
Family astrologer Chandramouli Upadhyaya, who met the Bachchans last night, said while there was no discussion on the marriage, they came to Varanasi to offer prayers to overcome a problem relating to Aishwarya's horoscope.

There have been reports that the wedding plans of the two actors were getting delayed due to a problem in Aishwarya's horoscope.

Tripathi, however, said he was not aware why the Bachchans had performed the prayers and that there was no specific ritual undertaken to reduce the influence of Mars on them.
Making sure the horoscopes of a prospective bride and groom are compatible is very important to Hindu marriage cermonies. If the stars aren't aligned properly for the bride and groom, it could spell disasterous for the couple. The Bachchans are saying it was just a normal religous ceremony and had nothing to do with an upcoming wedding. Either way, what we do know is that she participated in all the religous rituals as a member of the family would, leading many people to believe, perhaps they are already married.
What I'm wondering is, if Aishwarya's horoscope was really that messed up, why didn't she go and do this religious thing with her own family? Unless, the Bachchans ARE a part of her family, or soon to be? Clearly Aishwarya is hiding something.
In the past, Aishwarya has been quoted as saying:
"Marriage is an institution I believe in. I think it is a beautiful institution, and definitely one I'll happily be entering whenever God defines or decides, and an announcement will be made. It is not something I'd want to keep hidden or not let be known. I'll definitely announce it."
The question really is WHEN will she announce it. Below are some paparazzi photos taken at the temple showing Aishwarya with Abhishek Bachchan and his family, who are the most powerful celebrity family in Bollywood. Aishwarya is wearing no makeup in these pictures, which is humbling, because I was beginning to think she looked like a made-up diva all the time. Underneath it all, she's got under-eye circles just like the rest of us.
all photos via aishwarya-forever.com