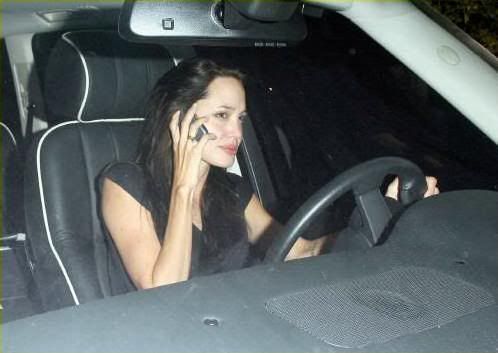 Angelina Jolie was photographed visiting her ailing mom, French-born actress Marcheline Bertrand, at the Beverly Hills Ermitage Hotel. She was stopping in to see her mom before heading to India to film "A Mighty Heart," about the death of journalist Daniel Pearl. Angelina and Brad will be flying to India the first week in October, and should stay about a month:
Reports have it that Hollywood couple Angelina Jolie and Brad Pitt are coming to India in October.
Jolie is reportedly slated to shoot for Micheal Winterbottom's movie 'A Mighty Heart', a film on the American journalist Daniel Pearl who was slain by terrorists in Pakistan. Jolie plays Pearl's wife Mariane.
The film features two Bollywood actors – Irrfan Khan and Aly Khan. Irrfan shares a lot of footage with Jolie in the movie. He plays a Pakistani agent named Captain who helps Mariane in trying to secure the release of her abducted husband from the terrorists.
Since Irrfan was denied a visa to Pakistan where the film was previously scheduled to be shot, Jolie is flying to India to shoot the film in Pune instead. And accompanying her will be her beau Brad Pitt and their three kids.
Angelina is also set to be featured in a sexy spread in January's Vogue shot by famed photographer Annie Leibowitz. Angelina is said to be re-establishing her status as a sex symbol following the birth of her first biological child, but it doesn't seem like needs to, because people consider her as sexy as ever.
Header picture from Faded Youth.