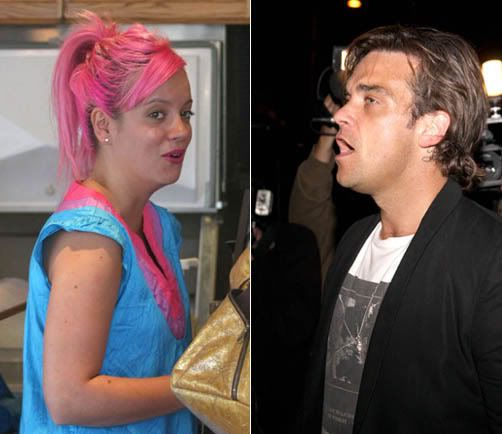 Robbie Williams has turned down a £ 1.5 million appearance fee, and wants to go and hunt for UFOs with Lily Allen, according to the British tabloids.
The hubba hubba Holly­wood hillbilly, 34, has apparently told friends that he sees "a lot of himself" in the witty and outspoken singer, and without any hint of innuendo, too.

So he's extended an offer of dinner at steakhouse to the stars STK, followed by a nightcap of gazing at more stars, this time made of carbon, on top of a car park.

Our Valley Girl cupid told us: "Rob loves LA but the one thing he does miss is the British sense of humour and impudence, so Lily's attitude appeals to him.

"He thought it would be nice to meet up while she's recording her album in town and got his people to call Lily's people to invite her for dinner at his favourite restaurant. Rob likes to be a big brother figure to celebrities who seem to find themselves in the same position as he has been – young and vulnerable and in the glare of the media.

"And he feels that taking an interest in UFOs and the unknown is a good way of putting things into perspective, hence asking Lily to join him."
It's long been known that Robbie Williams has a fascination with aliens, he also has a history of drug use, and I'm fairly certain the two are related. I guess that seeing a being from outer space could be humbling, although if it turns out the aliens are fans it is going to stroke your ego to learn that your music transcends planets.
I'm not sure what I thought pop stars do in their spare time, apart from submerge things in swimming pools and fulfill the fantasies of groupies, but looking for intergalactic life forms is not one of the things I thought they did for fun.
Robbie is turning down the £ 1.5 million 30-minute gig to stick to his vow of never performing in public again.
The Angels singer has been offered $103,000(£49,900) a minute to headline a music festival in Norway – but he is unsure whether to accept as he has vowed to give up touring.

A friend of the star said: "It would probably be the easiest money he'll make in his life but it's touch and go whether he'll say yes. We'll have to wait and see."

The 34-year-old recently posted a message on his personal blog saying he has no wish to return to live shows because his last tour "nearly killed" him.

He wrote: "The more time I'm spending away from public life, the more I like it."
It might be the easiest money Robbie makes in his life, but I don't think he needs anymore. Despite his detractors saying that he's never cracked America, he's still sold over 55 million albums.
Picture note by Celebitchy: Robbie is shown outside STK restaurant on 6/17/08. He's gained some weight, but I think the real issue for Robbie is that he needs a haircut. Lily Allen is shown outside a Starbucks in LA with a friend on 6/10/08. They're both in LA, they could hang out. Lily looks like she'd be open to some UFO spotting.